Home Page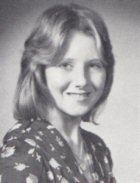 Linda Jett






After graduation in 1974, I went to Akron U for a short time.

I moved to Kentucky for about 6 months, but came back to Ohio.

My husband, Bill, is a Police Officer with the Munroe Falls Police Department. We have been married for thirty three years (1978), and live in Uniontown.

I worked for Stow City Schools for 28 years, traveling with the unions (for education) for 7 of those years, going all over the USA.
I took a disability retirement in 2006.
Now, I work part time for the Hilton Garden Inn at Akron Canton Airport, at the front desk.


We have two sons, Bill & Nathan.
Bill is a single dad; father to 8-yr-old Peri, whom he is raising. We keep very busy helping with her, of course.
Nate has been married to his wife, Debbi, for 5 years. He is a Police Officer, like his dad.

In our free time, my husband races a '74 GTO, & I show my '92 Firehawk. (It is #110 out of only 250 made.)

We travel when we can, & have been on a cruise. The Cayman Islands are my favorite vacation spot.


d-e b 02-03-11